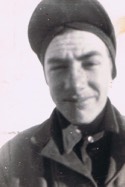 Residence
1930, Antelope Lake, Pierce, North Dakota725
Residence
1948, Aylmer, North Dakota, USA47
Residence
1965, New Rockford, North Dakota, USA47
Residence
7 Aug 1969, Whitefish, Flathead Co., Montana, USA47
Residence
25 Oct 1969, Park Ave, Whitefish, Montana, USA47
Residence
25 Jul 1970, 550 Pine Ave, Whitefish, Montana, USA47
Retirement
1 Oct 1985, from Burlington Northern Railroad
Death
11 Jul 1997, Brendan House, Kalispell, Montana, USA726
Residence
Whitefish, Flathead Co., Montana, USA726
Burial
Plot 153 D, Glacier Memorial Garden Cemetery, Kalispell, Flathead County, Montana, USA
Occupation
building barges for the US Navy (welder); farming; logging; dock seaman loading bombs; Natural Gas Company; Great Northern & Burlington Northern Railroads
Cause of death
Metastatic lung cancer
Education
Antelope Lake Township school; NYA (National Youth Administration) school
Religion
Christian (born Catholic, then Lutheran)
Spouses

Birth
4 Oct 1930, Truman Township (Harvey), North Dakota, USA
Residence
1940, White, Pierce Co., North Dakota, USA106
Residence
1948, Aylmer, North Dakota, USA47
Residence
1965, New Rockford, North Dakota, USA47
Residence
7 Aug 1969, Whitefish, Flathead Co., Montana, USA47
Residence
25 Oct 1969, Park Ave, Whitefish, Montana, USA47
Residence
25 Jul 1970, 550 Pine Ave, Whitefish, Montana, USA47
Death
20 Apr 2010, Colonial Manor, Whitefish, Montana, USA
Burial
Plot 153 D, Glacier Memorial Garden Cemetery, Kalispell, Flathead County, Montana, USA
Occupation
farming; Empress Cafe; school bus driver; Albrecht's Grocery; Wohl's Meat Market; Swift turkey processing plant; cook; housekeeper; waitress; housekeeping supervisor
Cause of death
natural causes
Education
Clifton country school; White Township School; Anamoose High School; Dale Carnegie Course, public speaking
Marriage
7 Oct 1948, Rugby, North Dakota, USA
Notes for Robert Louis Dusek
Robert Louis Dusek
Memorial services were held for Robert Louis Dusek, 72, of Whitefish, MT, on Tuesday, July 15, 1997, at St. Peter Lutheran Church of Whitefish, MT, at 11 a.m. Pastor Don Browne officiated the services. Inurnment followed with a committal service at Glacier Memorial Gardens at Kalispell, MT.
 He died July 11, 1997 at North Valley Hospital in Whitefish, MT, of cancer. 
 Robert was born to Henry Louis and Rosa (Mikula) Dusek on October 1, 1924 at Drake, ND. He grew up on a farm north of Anamoose, ND. He attended first through eighth grade at Antelope Lake Township school in Pierce County. He worked on the family farm until he was 17 years old when he went to St. Paul, MN where he attended an NYA (National Youth Administration) school and took up all types of welding. He worked at Williams Brothers Boiler Company in Minneapolis, MN building barges for the US Navy. (This was war time so the US Navy took over the company.) It was then time for him to sign up for the draft so he returned to the family farm. His dad offered him a military deferment in exchange for two years of farm help. When war conditions became worse he was called to Ft. Snelling at St. Paul, MN for a physical for the military. He was classified a 4F because of varicose veins. He then, along with Calvin Mergle and Hilbert Breckle, jumped a boxcar on the Soo Line Railroad at Harvey, ND. Back then the train was run by steam engines. They changed boxcars and towns bumming their way ending up at Hillyard Railroad Yard out of Spokane, WA where they spent the night at a hobo camp. The next day they ventured into Spokane looking for work. While sitting on a street bench in Spokane, a logging truck going by stopped and offered them a job in a logging camp north of Post Falls, ID. After a week of work Robert decided to leave. He was given wages of only $15.00 which turned out to be a bum check. Getting low on money, he decided to send a telegram from the bus depot to his sister, Dorothy, in San Francisco, CA asking for bus fare to California. The bus ticket was received the next morning. He went to work as dock seaman loading bombs on ships that were headed for Europe. He worked the forklift. When his brother, Larry, got drafted into the Army, that left his parents alone on the farm so he was asked to go home and help out again. He left that winter and rode a train from San Francisco to Seattle and on to Aylmer, ND. His dad gave him ten acres to farm while he was home. The gophers completely wiped his crop out the first year. He made enough money the second year from his harvest of oats and flax to buy a 1936 Ford. When his brother, Frank, came back home from the Army in 1945, Robert, Walter Doubek and Calvin Mergle drove out to Portland, OR. Robert got a job at a Natural Gas Company. While there he and Walter stayed with the John Klein family. He eventually sold his car. He ventured back to North Dakota again on a Greyhound bus. His brother, Frank, got married and moved off the farm, so he had to help with the family farm again. That was in 1946 when he first met his future wife. He joined the Great Northern Railroad on September 30, 1947. A year later he married Eleanore (Blondie) Delzer on October 7, 1948 at Rugby, ND. Six children were born to this union. The family lived in Aylmer, ND from 1948 to 1965 when they moved to New Rockford, ND to be near the section gang where he worked. The section gang was then discontinued. He worked at miscellaneous jobs on the railroad such as welder, handyman and gang foreman until March of 1969 when he bid on a temporary mechanic job for the railroad at Grand Forks, ND. Shortly thereafter he bid on a traveling equipment maintainer job in Whitefish, MT. He officially started his job there in July 1969. The family followed him to Whitefish, MT on August 7, 1969. Robert worked for the Great Northern and later known as Burlington Northern Railroad for a total of 38 years. He retired on October 1, 1985.
 He was a member of St. Peter Lutheran Church of Whitefish, MT. He was an avid fisherman and hunter. He loved the outdoors.
 Survivors include his wife Eleanore of Whitefish; his children: Darrel Dusek and wife, April, of Libby, MT, Charlotte Henne of Aurora, IL, Dianna Neugebauer and husband, Guy, of Moorcroft, WY, Beverly Dusek of Whitefish, MT, Gary Dusek of Walla Walla, WA, and Penny Black and husband, David, of Holland, OH; 11 grandchildren: Troy, Jonathan and Erin Dusek, Rhonda Woehl, Tracy, Jessie, Jason and Jamie Henne, Robert Taylor, Shawn Dusek, Amanda Dusek; seven great grandchildren, Jeshua Dusek, Brandon and Kaitlyn Woehl, Morgan and Nina Henne, Brittany Henne and Sierra Vahl; two step granddaughters and five step great grandchildren; sister, Alice Peterman of Fargo, ND; and two brothers, Frank Dusek of rural Anamoose and Larry Dusek of rural Martin, ND; and many nieces, nephews and cousins, too numerous to mention. Preceding him in death were his parents and a sister Dorothy.
Misc. Notes
Robert shot a moose in 1971 and 1991.
47
Robert got a cow elk on 23 Oct 1994.
47
Bought house at 550 Pine in Whitefish, Montana for $18,500 in Oct 1970 at 8.5% interest (monthly payment $142.25).
house was sold in Dec 2004 for $188,175.
Purchased:
47
log splitter $600
Ford Taurus $1253.70
Camper $2500
Chevy Luv $800
Ford Pickup $3500